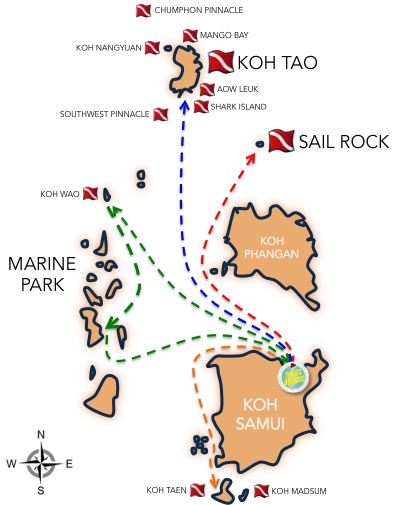 Koh Samui is the perfect place to discover some of the best dive sites in the Gulf of Thailand. Wether you want to dive in Koh Tao, Sail Rock or Angthong Marine Park, all dive sites are no more than an hour and a half away from the island by speed boat.
Koh Tao is also known as Turtle Island and is a haven for Scuba divers all over the world. Only 1h15 by speed boat from Koh Samui, Koh Tao is home to a vast array of diving opportunities. With its many beautiful coral gardens and submerged pinnacles to explore, there is an abundance of marine life waiting to be discovered.
Ang Thong National Marine Park is a pristine archipelago of 42 islands with towering limestone mountains, thick jungle, white-sand beaches, waterfalls and hidden coves and lakes to explore. Ang Thong park is a protected area of more than 100 square kilometres of land and sea, and home to a rich variety of exotic wildlife and sea creatures.
Whether you're diving for fun, taking your first breaths underwater or learning to scuba dive, you will soon discover why The Gulf of Thailand is a favorite dive destination with the worlds scuba diving community.